A group of our friends arrived at the Chateau at 6pm, just in time for a pre-dinner bordeaux wine tasting. This was just the prelude to a great meal and an evening out in Bordeaux (walking, of course!).
Stunning property to rent, a stone's throw from our Château
Our friends are staying at a spectacular property – "Maison de la Matole" – just on the edge of the woods next to our Chateau. This beautiful, spacious property sleeps 13 and boasts a beautiful swimming pool. The owner, Isabelle Puissant of Cosy Accommodation, looks after the property and works hard to guarantee that her guests have a great stay. Available to rent all year round, the property is ideal for large groups of friends or families wanting to enjoy time together as well as alone.
Our friends enjoyed a leisurely walk on their way back from the must-see Chateau de Montesquieu at Brede, where they got to taste some Bordeaux wines.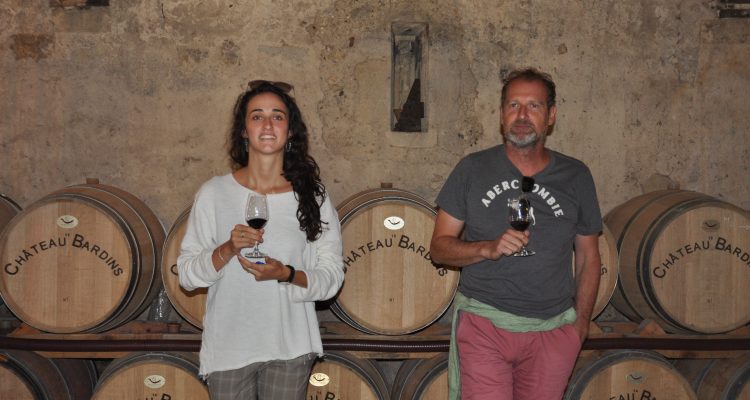 Pre-Dinner tasting
Just before dinner : the perfect moment to enjoy a bordeaux wine-tasting session. It's the ideal time to stimulate your taste buds and whet your appetite.
Since our group only wanted to taste reds, we willingly adapted to offer them a customised wine tasting.
We organised a triangular tasting session – in other words, three glasses each, but only two different wines (Merlot and Cabernet Sauvignon). The aim of the game was to identify the two glasses which held the same wine…and to guess the odd one out.
The two Merlots were noticeably less tannic than the Cabernet Sauvignon (the last glass). The latter, then, was easier to recognise as it is much more robust. But it wasn't an easy task for everyone – and these ladies came in first (which they were very proud of!)
Cheese and bordeaux red wine
The pinnacle of French tradition – bordeaux red wine, a plate of cheese, and some good bread!
This time round, everyone was served two glasses – two Chateau Bardins vintages from 2010 and 2005, served at the same time. These were very good years, offering wines that are both robust and round. Our guests compared them and tried to identify the differences in taste between the vintages. Alongside these, we served some excellent cheeses – Salers, Brie de Melun, Ossau-Iraty… delicious!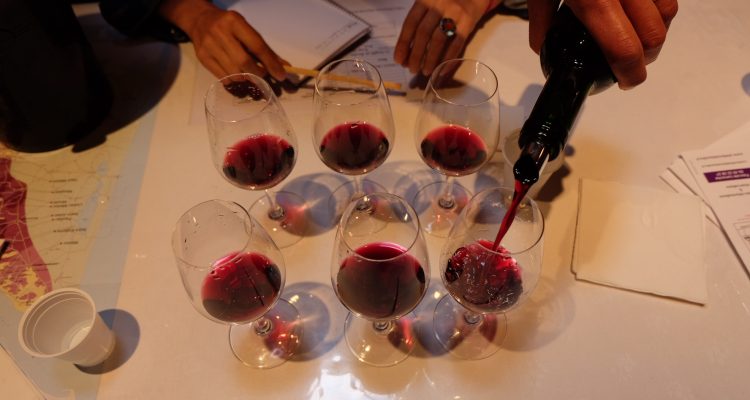 We would have loved to serve our guests some bordeaux white wines to pair with the Saint-Nectaire, the Saint-Maure and the comté… but they will be back! There's always more to discover in and around Bordeaux.
You'll like reading :